Damper Conditioning Monitoring
Cylinder Liners
Cylinder Covers
Connecting Rods
Piston Crowns
Viscous Dampers
If you are looking for information about Damper Conditioning Monitoring you've come to the right place!
PJ Diesel Engineering A/S is authorized by Metaldyne.
We offer high-quality factory-authorized service and have more than 40 years' experience in servicing, repairing and maintaining Viscous Dampers.
PJ Diesel Engineering A/S provide both original test kits for Silicone Testing and original Metaldyne spare parts upon request.
Most Four-Stroke diesel engines are fitted with one or two viscous shear type torsional vibration dampers attached to the crankshaft, at the opposite end to the flywheel.
Why are they fitted?
How do they work?
How is the performance monitored?
Why are Dampers fitted?
The crankshaft damper is fitted to control the torsional vibrations developing in the crankshaft induced by the combustion process in the engine. The viscous damper, by reducing oscillations in the crankshaft to a low amplitude, keeps the material stresses arising from these vibrations within permissible design limits and prevents premature failures of the driven equipment due to fatigue.
How does the Metaldyne Viscous Damper work?
The viscous damper absorbs torsional vibration energy by the shearing effect of a highly viscous silicone fluid in the small gaps between the inertia ring and the damper casing. This is achieved by shearing a thin film of silicone fluid surrounding the inertia ring mass (seismic mass). As the fluid undergoes the shearing action it creates a reaction force to counter the torsional vibration.
The shearing of the fluid generates heat which is dissipated through the external surfaces of the damper. The silicone fluid within the damper casing will, after constant heat absorption during its service life, reduce in viscosity value.
How is the performance of the Damper Monitored?
The internal condition and operating efficiency of the Holset viscous damper is monitored by periodically extracting small samples of silicone fluid for laboratory analysis.
Condition monitoring of the damper is an essential preventative maintenance practice. It ensures that the torsional vibration system of the vessel, generator or pump continues to function as per the design calculations, thus preventing early life failures due to metal fatigue.
We will advise subsequent sampling intervals via the analysis report. Special sampling kits, complete with instructions, are available from  PJ Diesel Engineering A/S upon request.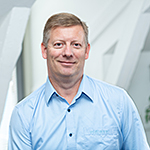 Which of these conditions does your sample look like?

New silicone fluid is a clear / colourless fluid

Fluid dark brown or black in colour, usually with particles in the fluid. As a general rule, dampers with fluid in this condition have suffered internal mechanical damage and have restricted remaining service life.

Fluid colourless to light shades of yellow / brown, and free from particles. Usually indicates no internal damage. Fluid viscosity will determine suitability of damper for further service periods.

A damper with gelled / solidified fluid is unsuitable for service and it should be removed from service as soon as possible as it is no longer protecting the crankshaft from torsional vibration.
New is not necessarily best!
A Viscous Damper with a wear and damages can in most cases be repaired at a price up to 75% less than buying a new one. It can even improve life cycles compared to new components from the manufacturer – and with even better delivery times.
Availability and fast response are key to our mutual success, and at the same time we can offer to repair parts which often would be stated as non-repairable. Common problems can most likely be repaired in our workshop and along comes always a 24-month liability for defects and shortages.
The PJ Diesel component workshop is located in Rødby, south of Copenhagen, and is specialized in the reconditioning of major engine components. We offer service, repair and maintenance of all types of Viscous Dampers and we have a team of factory trained service engineers working around the clock to service our customers.
In PJ Diesel Engineering we focus on circular economy-based repair and service solutions based on "Waste Less – Lose Less" principle, and continuous optimization, so please contact us with specific application information and we will guide and advise accordingly.
Circular flow and Exchange Service
Imagine a shared response program unlocking the value of unused assets and saving you from stockpiling key components for urgent repairs.
Within PJ Diesel Engineering A/S you can join services with other end-users minimizing stock expenses, and at the same time maintaining full flexibility and the advantage of externalizing the risks. Through our exchange program expensive individual ownership costs and delivery time is reduced with shared acknowledged access to key components. Read more about our EXCHANGE SERVICE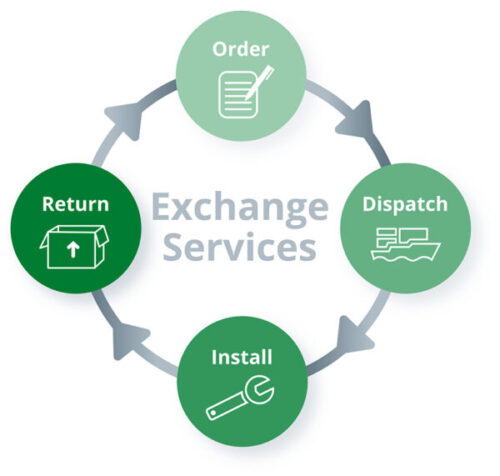 Long- and short-term benefits
Improving service by enabling programmed maintenance and emergency response
Reduce dependency from shore facilities
Eliminate delivery time (Time required for repairs from shore)
Plug and play solutions
Risk reduction
Reduced operational cost
Elimination of expensive inventory
Fixed prices on exchange units - easy budget planning
24 months liability for defects and shortages
High availability because of inventory at PJ Diesel Engineering A/S facilities
Not stocking expenses
No new unit investment
Full report and IMO/EAIAPP Validation
Repairable damages all included in SEU (Service Exchange Unit) A solution with no extra costs
Elevating from supplier to service partner (Trusted supplier)
Responsible and sustainable Supply Chain Management