Optimizing Energy Use through Improved Efficiency and Lower Emissions
Our technologies and services enhance energy conversion of renewable and fossil fuels, energy extraction and distribution, and electric power generation and distribution. Major power generation OEMs throughout the world use Woodward engine management systems and genset controls, as well as power converters for CO2-free renewable energy generation. Our power management systems for diesel, natural gas, and alternative-fueled engines successfully address strict EPA emissions regulations while providing reduced overall cost of system ownership. These technologies have helped us maintain preferred supplier status in the diesel- and gaseous-fueled power generation industry, plant control systems operation, and the wind power generation industry.
Benefits of Woodward's Control Technologies
Seamless integration of protection and control products
Performance to meet demanding applications
Fuel efficiency and emissions compliance
Reliable products for increased uptime

Protection Relays
HighPROTEC – the Easy Solution for Medium Voltage Applications
Woodward is an independent supplier of Systems and Components for the Power Generation and Distribution market. Decades of experience, combined with continuous improvement into our protection relays, benefit our customers. The modular-designed product families provide Woodward's customers with an array of solutions for Mains Decoupling, Feeder, Motor, Transformer, Generator, and Line Protection. Our customers find precisely the right products or systems to meet their requirements thanks to our solution-oriented consultancy. HighPROTEC, the next generation of protection relays from Woodward, makes protecting medium voltage feeders, generators, transformers, and motors simple, reducing effort and cost. It can be easily configured for specific application requirements and accepts 0‒800 VAC and 1A / 5A inputs, a wide range of supply power, communication protocols (DNP3.0, IEC 61850, IEC 60870-103, Modbus, Profibus), and menus in seven different languages. It displays system connections, operating values, and messages/alarms/fault data – making it easy to use. Worldwide certifications include CE, UL, CSA, EAC, and marine certifications.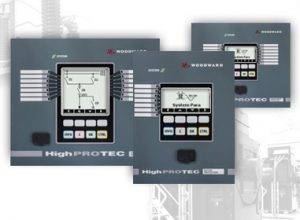 Wind Converters
Woodward is one of the leading wind converter suppliers for renewable energy generation. More than 17,500 installed converters in onshore and offshore applications provide Woodward the competence and experience to be a leader in the wind energy business. Precise and intelligent control algorithms of CONCYCLE® wind converters, in combination with variable-speed generators, create an optimized power-generation system with power plant quality.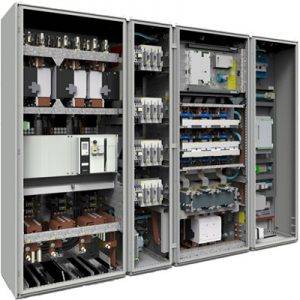 CONCYCLE Low Voltage Doubly Fed Induction Generators
Benefits of the CONCYCLE® platform for DFIG systems
High efficiency
High power density
Detailed simulation models
Reactive power compensation
Compact, modular and rugged design
High dynamic control algorithms
Asymmetrical fault compensation
Variable field bus communications
Integrated data logger
Service organization worldwide