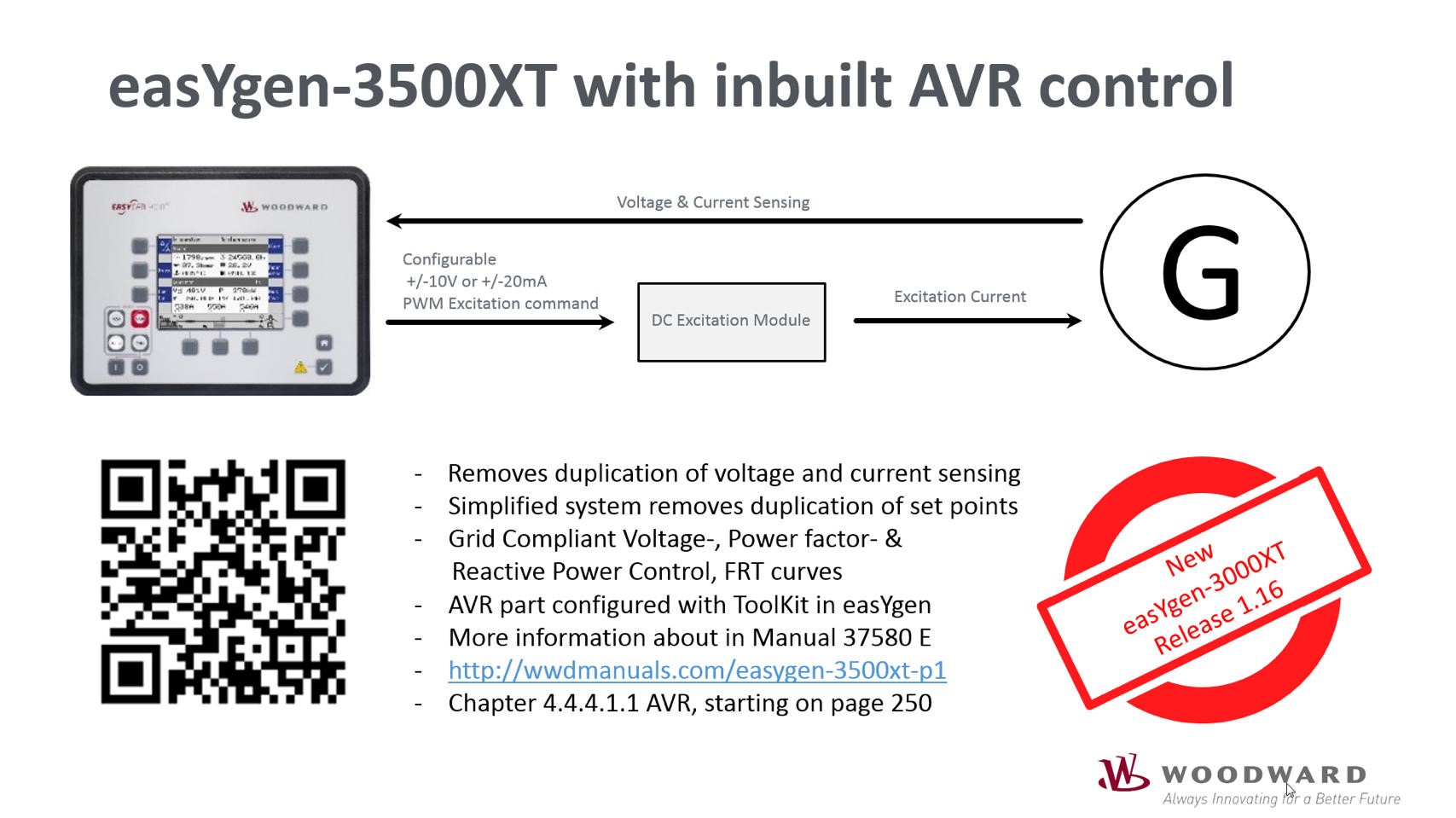 The new easYgen-3500XT now comes with inbuilt AVR Control
The easYgen software is upgraded to the 1.16 version and besides the Automatic Voltage Regulator (AVR) the easYgen-3500XT also has following benefits:
Removes duplication of voltage and current sensing
Simplified system removes duplication of set points
Grid Compliant Voltage-, Power factor & Reactive Power Control, FRT curves
AVR part configures with ToolKit in easYgen
Read more information in Manual 37580 E chapter 4.4.4.1.1 AVR, starting on page 250
New easYgen-3000XT Release 1.16
Paralleling Genset Controllers for Diverse Applications
The easYgen-3000XT Series controllers operate gensets of all sizes and applications. These controllers include specifically designed algorithms and logic to start, stop, control, and protect the genset, circuit breaker, and the utility where applicable. This technology allows standardizing on a single, affordable genset controller for distributed power generation applications. These applications can range from single stand-alone emergency backup power to parallel load sharing of multiple gensets in complex, segmented distribution systems with multiple utility feeds and tie breakers.
The easYgen-3000XT Series paralleling genset controllers provide exceptional versatility and value for OEM switchgear builders, generator packagers, and system integrators.
Benefits include:
High Flexibility and Reduced Efforts for variants at different applications. One device fits most applications
Saves Cost of additional PLC as logical/analog operations can be handled by the control's LogicsManagerTM / AnalogManagerTM 
High Robustness against external disturbances ensured by galvanic isolation of the measuring inputs, relay contacts, biasing outputs, and communication interfaces
Simplified Configuration and Commissioning through Ethernet and USB connectivity, on-board documentation and system update function
Drop-In Replacement extends system longevity
Full Mains, Generator, and Engine Protection minimizes additional protection relays in low voltage applications

14 Built-In Languages enable your genset to speak your local language at the touch of a button
PJ Diesel Engineering A/S is a Woodward distributor and AISF service facility for Governors, Actuators, and Turbine Valves in Denmark, Estonia, Faroe Islands, Finland, Greenland, Iceland, Latvia, Lithuania, Sweden, and coastal area of Poland for marine applications.
We are specialists in
governors and electronic controls
gas and steam turbine control
valve services
power management
We offer to service all Woodward governors, actuators and controls in our facility located in the Port of Copenhagen Malmoe
Our overhauling and repair procedures strictly follow the Woodward guidelines, protocols and specifications. Read more about Our Service for Woodward Governors & Controles