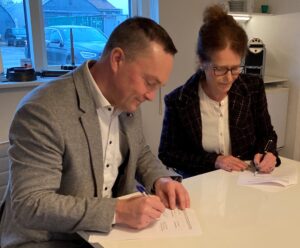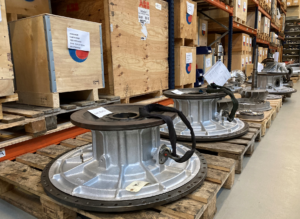 Photo:Flemming Juel Jensen, BWSC and Anne-Mette Elsborg, PJ Diesel Engineering
Many synergies and shared values have been key to our new partnership focusing on carbon reduction through remanufacturing, circular exchange concepts, and the life extension of key components.       
BWSC and PJ Diesel Engineering have signed a strategic cooperation agreement where we aim to utilize each other's networks and technical competencies to promote the remanufacturing of engine and turbocharger components.
What started as a normal working relationship between BWSC, and PJ Diesel Engineering for more than 25 years has grown and evolved through services and project partnerships.
As both are working in the maritime and the energy segment it made more and more sense to combine our strengths utilizing best practices from both worlds enabling each other's services and solutions.
"Since 1979 PJ Diesel Engineering has been remanufacturing engine components and turbochargers and to a certain extent been pioneering circularity and reuse of critical components. For us, it was common sense that new is not necessarily better. We have been on a continuous and ongoing journey within optimization and improvement of our remanufacturing processes. Today we are proud to support our client's ESG, SDG, or CSR narrative (If public ESG rated) through our RINA class-approved and carbon-reducing methods. We reduce our client's carbon emissions, extend the lifetime of components, and remanufacture all supported by a Life Cycle Assessment (LCA) With our services you control your MEI (Material ESG Issue) and support a better ESG rating" says Anne-Mette Elsborg, CEO, PJ Diesel Engineering A/S
With a new strategic service facility with capabilities for engineering, overhauls, and service for turbochargers and engine components in Panama, we can support and strengthen our services to our clients operating in the Pacific and the Atlantic, the Panama Canal, and the Americas.
BWSC A/S and BWSC Panama will offer and recommend PJDEs remanufacturing services as an alternative to utilizing new spare parts and major components when we need to send components for remanufacturing and PJDE will do the same regarding BWSC's manpower and engineering competencies.
"It has always come as natural for BWSC to recycle and refurbish components when possible and cater to the client's requests and satisfaction. In order to comply with an increased demand for remanufactured component alternatives and global demand for carbon reduction it has for us been common sense to take extra steps and initiatives toward transparency in promoting this approach" says Nikolaj Østergaard Sørensen, BWSC, Director, Services & Support.
The agreement entered into effect on February 1st, 2022