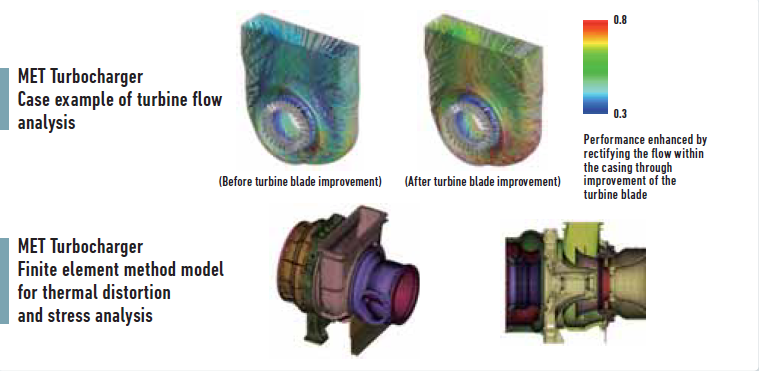 Source: MEET news, 15th issue, April 2019
As MHI-MME promotes its mission of providing safe and secure navigation with energy-saving and environmentally friendly technology at the core, the comprehensive strength of the Mitsubishi Heavy Industries Group is supported by the "shared technology framework" that was launched in April 2016.
Under the oversight of the Chief Technology Officer (CTO), the framework compromises the Engineering Headquarters, Marketing & Innovation Headquarters, Value Chain Headquarters, ICT Solution Headquarters and the Research and Innovation Center. The shared technology framework seeks optimization throughout the MHI Group, such as by strengthening the technological foundation and marketing capabilities as well as the value chain, etc., including procurement.
The ICT Solution Headquarters and Research & Innovation Center play the role of providing direct support in product development related to performance and reliability. In recent years, validation of the performance and reliability of devices through numerical simulation has become extremely important in order to increase the speed of development and make performance and reliability even more certain before making a prototype. By combining large-scale simulations – made possible through great strides made in analytical hardware and software – with accumulated expertise, it is now possible to evaluate a vide range of event that mutually affect each other, such as flow, combustion, heat transfer, vibration, structural strength and lubrication, for the overall product. Furthermore, in case of Waste Heat Recovery Systems (WHRS), which are composed of a number of devices, reliability during actual operation, including transient states, is secured by utilizing dynamic simulation.
The MHI shared technology framework will continue to develop state-of-the-art technologies that deserve the trust of our customers, so that we may ensure ceaseless performance improvement of the products of MHI-MME and other MHI Group companies as well as assure their reliability.
PJ Diesel Engineering
PJ Diesel has been authorized by MHI MET for more than 25 years and provides high quality MHI MET Turbocharger Service. PJ Diesel offers both service and repair solutions tailored specifically to your requirements and requests and we have deep knowledge and experience in repairing and servicing both the MHI MET MA, MHI MET MB and MHI MET SRC Series.
In PJ Diesel Engineering we have focus on Circular Economy-Based Service and repair solutions. So instead of high price for new units we can offer a lower cost and shorter lead-time for reconditioned parts, sent directly from our stock in Copenhagen. Take a look at our Exchange Service program.
Worn vacuum breakers can lead to oil leakage during low-load operation. Inspection is very easy as it only requires the loosening of bolts. We recommend, that to ensure reliability, you remember to clean and inspect the vacuum breaker when carrying out Turbocharger maintenance.