Woodward Gas and Dual-Fuel Engine Control Systems
Woodward has been providing engine control solutions for gaseous and dual-fuel engines for over 30 years. Our control systems are found on stationary engines, buses, and mobile and industrial engines around the world. Woodward's vast experience allows us to engineer a solution that optimizes engine emissions and efficiency through precise control of air flow, fuel flow, combustion processes, exhaust flow, and aftertreatment with an integrated systems approach.
Multipoint Injection
Woodward – Multipoint Fuel Injection Systems
Woodward multipoint fuel injection control systems are capable of controlling the diesel injectors in a common-rail or micro-pilot fuel injection system. They can also control main- and pre-chamber gas admission valves on spark-ignited engines. Woodward multi-point control systems can be configured for any engine cylinder configuration up to 24 cylinders, depending on the electronic controller hardware platform. Woodward In-Pulse2 and ECM3 are the base controller platforms that support the multi-point injection systems.
In-Pulse II and ECM3 Fuel Injection Controllers Precision fuel injection and engine control for gas, diesel, and dual-fuel engines
Woodward's In-Pulse™ II and ECM3 fuel injection controls manage and control electronic fuel injection (EFI) reciprocating engines used in power generation, marine propulsion, locomotive, and industrial engine, and process markets. The controllers manage the core fuel system and injection events for many EFI fuel systems, including electronic diesel unit injectors and pumps (EUI/EUP), diesel common rail systems (CR), solenoid-operated gas admission valves SOGAV™ , micro pilot injection systems, and electronic rail valves (ERV). The In-Pulse II (with the addition of an 18-channel driver board), shares the same packaging, digital core, software tools, communication ports, I/O, and features of Woodward's 733 Control. Therefore, where common engine types utilize different fuel systems, seamless interchangeability of the core fuel control can be easily accomplished without redesigning the complete engine management system.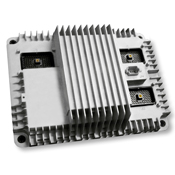 Engine Control – Gas Engine
Integrated engine management system to reduce emissions in propane and CNG engines
Woodward's MI-07 control system is an advanced engine management system for propane and CNG engines in forklifts and other on- or off-highway vehicles. The MI-07 is emissions certified on 8 engines to the 2007 standards for Large Spark Ignited (LSI) engines as established by the California Air Resources Board (CARB) and the US Environmental Protection Agency (EPA). The emission results are demonstrated to meet the 2010 emission standards that are proposed by CARB. The MI-07 system provides closed-loop control of stoichiometric air-fuel ratio for accurate application with three-way catalysts. Full authority control of an electronic throttle provides a range of options for speed governing. With these capabilities, and the control of ignition timing and dwell, the MI-07 offers a system with 5000 hour or 5-year emissions compliance. The components and ECU are designed for on-engine and under-hood mounting. The system offers capability for both single and dual fuel on engines with up to 8 cylinders.